Randomized Control Trial to Compare Effectiveness oaf Emotional Freedom Technique and Therapeutic Communication to Reduce the Anxiety in Cancer Patiens at Sanglah Hospital Bali
Kata Kunci:
emotional freedom technique, communication therapeutic, female-cancer patient anxiety
Abstrak
Anxiety is presumed to be suffered more by female patient than male patient, due to the multi-fuctional roles of female. Therapeutic Communication Methods which has been apllied show less-favorable results, particularly at times the patients display their anxiety. The objective of this research is to compare the Therapeutic Communication (TC) Methods to Emotional Freedom Technique (EFT), in order to reduce the anxiety of female cancer patients. There were 62 female cancer patients at the stage of I to IV, followed by Karnofsky score at the range of 50 to 80, were involved as the research sample. This experimental research was conducted by using Randomized Control Trial (RCT) design. The sample was selected by block randomization methods and divided into two groups, an intervention group (IG) and a control group (CG). The intervention was held three times with EFT and TC for Intervention Group. The Control Group was held three times with TC only. The anxiety score measured by HSCL-25, the results show that the score of anxiety on the IG was decreased at 0.38 after the intervention. CG was decreased at 0.34 after the intervention. To conclude the research, Emotional Freedom Technique showed the same decrease significantly in anxiety level with the Therapeutic Communication Method in female cancer-patient.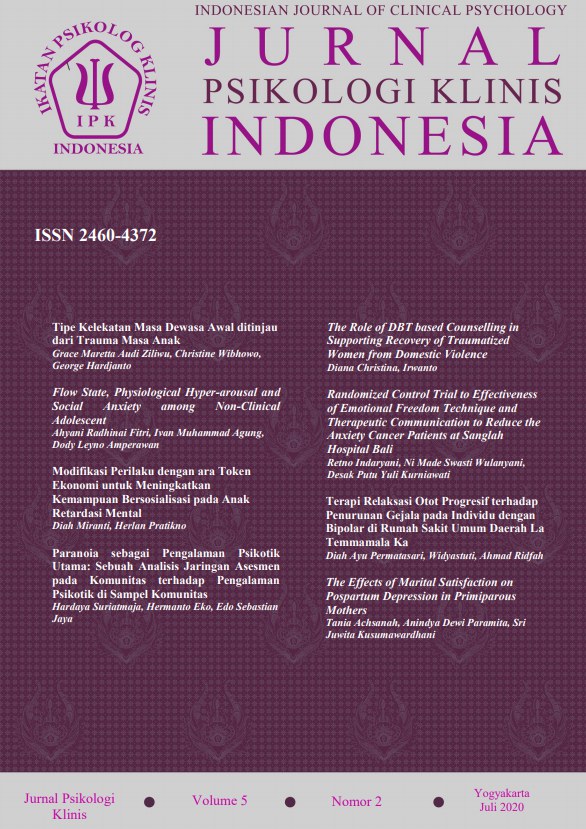 Unduhan